News
BREAKING: Police arrest anti-fuel hike, electricity tariff protesters in Lagos
Operatives of the Nigeria Police Force have dispersed and arrested protesters expressing their displeasure against the recent increase in petrol pump price and electricity tariff in Ojuelegba, Lagos State.
POLITICS NIGERIA reports that the protesters are members of the Socialist Party of Nigeria, SPN, and National Conscience Party, NCP. The armed policemen later took the arrested protesters to custody.
It was learned that apart from the protesters who were arrested, gadgets of journalists were seized. One of the leaders of the protesters, Hassan Soweto, said 18 persons were arrested, including four journalists.
"We have just been arrested alongside several members of the Socialist Party of Nigeria and journalists for protesting this morning against fuel price hike, electricity tariff, and deregistration of SPN. I am typing this message at the back of a police van taking us to Area C, Police Command, Lagos," Soweto, who is the National Youth Leader of SPN, said.
This news medium reports that a series of protests in different parts of the country have trailed the recent hike in the pump price of petrol and an increase in electricity tariff.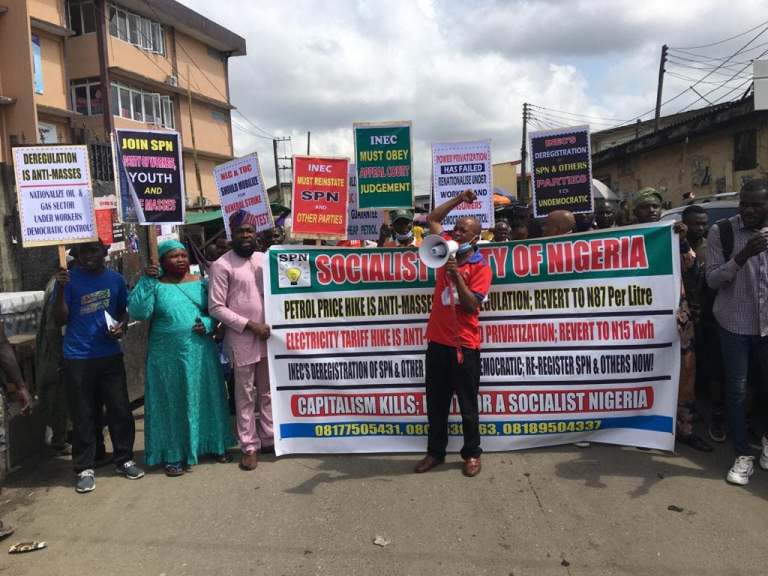 In March, the federal government had announced that the Petroleum Products Pricing Regulatory Agency (PPPRA) would modulate pricing in accordance with prevailing market dynamics.
In line with the directive, the ex-depot price of petrol as determined by the Petroleum Products Marketing Company (PPMC) increased from N138.62 to N151.56 per litre in September 2020.
Following the ex-depot adjustment, the retail price of petrol has now risen to as high as N160 per litre, and opinions have been divided on the increase, considering the effects of the coronavirus pandemic on the economy.